Massage
For maximum effect, our massage is based on thermal treatments and compliment all other spa services, such as thermal, wraps, sauna, walking, relaxation and meditation.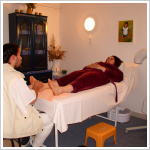 Our villa boasts its own masseurs, who treat guests on site health and meet their. relaxing spa massage needs. The technique is unique to the area and cannot be found anywhere else, locally! A decade ago, reflexology, Swedish massage, and Ju-mei Ho cuisine combined to create, a body pivot point massage based on providing a relaxing, kneading massage. In all cases, the guests' physical and mental state determine the treatment process.
All packages include at least one 20 minutes massage.
Please make appointments or enquire on arrival!