Thermal lake
The Juliet villa apartment house is 900 m (a pleasant 15-minute walk) from the lake.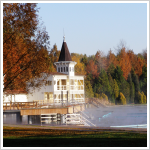 In 2009, with the thermal lake in the center of the building, we reconstructed and renovated the main house and surrounding buildings to create a 2500 m2 spa house. Formed into a bathing space, which can be used in winter and summer, we also introduced the new Spa (Wellness) and Therapy Center in Ady Endre street. This spa resort is attractive to the younger generation, with its extensive leisure and spa facilities. The four-star hotel comprises of a three-storey building, wellness center (sauna, steam bath, ice bath, salt grotto, pools), a modern catering department spaces and therapy (hydrotherapy, massage, beauty salon, sludge management, exercise therapy) for all our gusts.
Spa Hospital

The nationally renowned St. Andrew Rheumatology Hospital, situated directly on the lake, 900 m from Villa Juliet offers a host of medical and therapeutic treatments, all of which can be accessed by our guests.
Please ask at reception for more details!
Rheumatology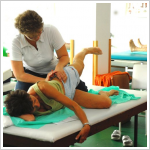 The Hospital at Hévíz Thermal Lake offers individualized treatment plans, complete medical examinations and treatment management, all waiting for guests who want to heal. Outpatient and inpatient physiotherapy treatments (mud wrap, weight bath, underwater jet massage, carbon dioxide bath, electric bath, Diadynamic power management, interference therapy, magnet therapy, four cell galvanic bath, ultrasound, therapeutic exercises, therapeutic massage), from a wide spectrum offer appropriate treatment for a range of disorders or simply for your pleasure!
Diagnostic facilities are also on offer (laboratory, ECG, x-ray).
There are a number of indoor Spa pools: (thermal pool: weight bath, thermal bath, therapeutic exercise pool, whirlpool). Water temperature: 32-37 ° C
Opening times:
lake:
• Summer (May 1 to September 30) 8:30 to 18:00
• Winter (October 1 to April 30) 9:00 to 17:00
Winter spa:
• 7:00 to 17:00 throughout the year