Villa spa!
Wellness Room - Relax in the Villa Julia!
Accommodation is available with a private spa. Do you want to have fun with us? Our wellness services offer visitors more than any other place as you can find all your spa requirements under one roof! Here everyone can enjoy the benefits of our spa services to recharge the body, soul and spirit before returning back to turning the mill wheels of everyday life. Start your free and harmonious state of mind to be able to continue an active rest period! Spa room packages offer unlimited use!
Spa bath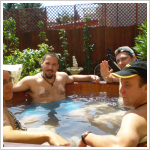 The spa bath is a truly original apartment house service. The physiological aspects of the traditional sauna and the hot tub combine the beneficial effects. Heated in winter and, in summer placed out in the garden, where the sun heats the water. Separate jaccuzzi baths help you relax, enjoy and recharge you entire system. Book online and request the wellness package. Packages offer unlimited use!
Infrasauna
The infrared sauna is one of the most effective forms of detoxification of the spa spectrum. It provides pleasant relaxation, and can be romantic too. The sauna can accommodate up to 4 people. Colour therapy and relaxing music awaits you inside.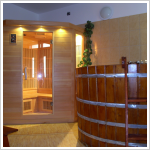 The infrasauna aids detoxification through the purification of sweating. The infrared rays profound effect due to sweating, removing many toxins and impurities deposited from the body. The amount of sweat may be multiples of either the infrared or conventional sauna cabins, the quality is different, since the infra heats from the inside outwards resulting in a higher detoxifying effect. The infrared sauna sweat contains up to 20% of the fat, cholesterol, heavy metals and fat-soluble toxins. Book online and request the spa package. Packages offer unlimited use!
Hydro- 'tropical rain' massage showers
The hydro-massage showers have high, directed heads within the hydro massage shower cabin. You feel just as if you were standing under a waterfall.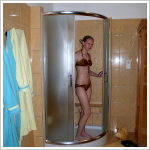 The hydro massage refreshes, relaxes and energizes. For some-just to bathe in: hot or cold. For others, who like to spoil themselves: a hot steamy, tropical shower.
Book online and request the spa package. Packages offer unlimited use!