Family-friendly policy
"to be together, but separate"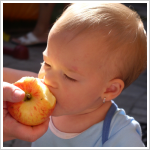 More and more families wish to experience a family holiday in a child friendly environment, while still being able to have some personal space to relax. Our studio apartments are designed with that in mind: there are communal areas, such as the kitchen and terrace yet there are separate bathrooms and access to childrens channel on the TV. Thus allowing everyone their own living space. We also provide bathrobes, hair dryer, towels, mosquito repellent, iron, ironing board and microwave oven use. Additionally we offer everything for babies and children, which make it easier for parents to prepare for the journey. According to the age of the children: Baby bed linen, bath tubs, potty, toilet seat, high chair and blender are available for use. All at no extra cost!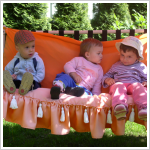 Outside we offer a grass garden, toys, swing bed and sandpit and in close proximity there is a wonderful playground for kids. We even offer mothers help – Babysitting!
For family entertainment we will keep you informed of local family and children friendly places of interest and entertainment.
Baby swimming nearby hotel
Babies are at home in water and the adequate quality and level of thermal water calms the babies and enables them to float easily. This is their opportunity for a spa experience! The baby swimming lessons start from as early as 3 months or body weight of 5 kg. The teachers are very experienced and ensure the children's love of the pool. There is a great atmosphere, and a friendly welcome
Who do we recommended for:
Babies and children from 3 months
Mother-baby pairs
Baby Daddy Combos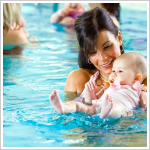 Baby swimming lessons build on each other, so it is worth attending at least 4 times in order to observe the result of their rapid learning! Lessons take place at Kolping Family Hotel (5 minutes by car)